Visit Gallery 510 in Downtown Decatur
Gallery 510 is open during the following hours: Tuesday through Friday 11 to 5.
Gallery 510 Art & Framing is a 501(c)(3) organization.
A portion of all sales goes directly to help fund our programs.
Member Artwork For Purchase
Find original art, prints, cards, jewelry, unframed work and other items created by members & guests.
Member Artwork for Purchase
Find original art, prints, cards, jewelry, unframed work and other items created by our members & guests.
Art Around Town
The following artists will be exhibiting their work throughout Decatur, Illinois.

July 2022
Gallery 510 – Robert Lumpp
Decatur Public Library – Macon Resources
Decatur Airport – Mike Delaney
Cancer Care Central Illinois – Barbara Dove
Artist of the Month
Robert Lumpp
"Miss Mary" & "The Lighthouse" will be at Gallery 510 during Robert Lumpp's show in July. His acrylic paintings are beautifully framed and ready to be hung in your home. They are priced to sell.
Capt. Robert Lumpp is a native of Mattoon though he did not spend much time there after graduating from high school. He now lives in Effingham.
His varied background includes radio and tv broadcasting, advertising and commercial art. He became involved in river boating in his late thirties and pursued that as a full time career. Lumpp operated passenger vessels in several cities with Hannibal, Missouri, as his headquarters.
Along the way he was involved with fine art, and he studied with artists in Hannibal, Little Rock, Salem, Illinois, and Florida. He was inspired by the American Flag and has also featured paintings of Old Glory. His website is theflagpainter.com.
As July's featured artist he is showing his beach and water paintings.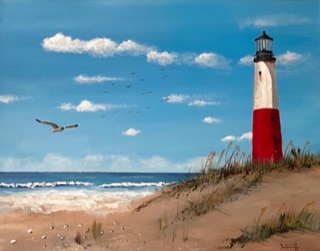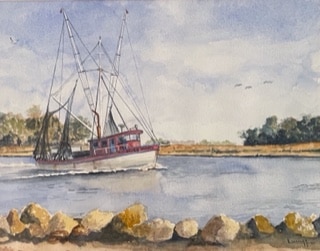 Pastel Plein Air Workshop with Tracey Maras
Tracey Maras is best known for her realistic pastel paintings of the natural world around us and life interacting with it. Working with pure pigment, her pieces are vibrant yet intimate views of Central Illinois and beyond.
Since 2000, Maras' work has spanned many themes including wildlife, landscapes, interiors and portraits. She consistently pushes the limits of the pastel medium, exploring new techniques in each work. Maras actively teaches pastel techniques in workshops and classes throughout Illinois.
August 20 * 9am to 4pm
One-Day Workshop – $60
Sign up at Gallery 510. Space is limited. Details and supply list will be provided.
Call 217-422-1509 or stop in at 160 East Main St., Decatur
Painting outdoors (en Plein Air) can be intimidating, but it can also advance your skills in painting by leaps and bounds. During this 1-day workshop, you will learn tips and techniques to make your outdoor painting adventures more productive and enticing. We will spend the day painting at an outdoor venue on Lake Decatur where you will have plenty of opportunity to paint a variety of subjects, including gardens.
Become a Member
Member artists pay dues annually and receive a solo show at Gallery 510, opportunities to exhibit at other venues about town that Gallery organizes, smaller commission paid on sales at the Gallery, discounts on purchases in the Gallery, discounts on framing supplies, fees waived for entering our shows, a voice at the Board of Directors meetings, and networking opportunities with the other artists. We also offer Emerging Artist and Student Artist Membership Levels.
Get Updates From Gallery 510