Visit Gallery 510 in Downtown Decatur
Gallery 510 is open during the following hours: Tuesday through Friday 11 to 5.
Gallery 510 Art & Framing is a 501(c)(3) organization.
A portion of all sales goes directly to help fund our programs.
Member Artwork For Purchase
Find original art, prints, cards, jewelry, unframed work and other items created by members & guests.
Member Artwork for Purchase
Find original art, prints, cards, jewelry, unframed work and other items created by our members & guests.
Art Around Town
The following artists will be exhibiting their work throughout Decatur, Illinois.

March 2021
Gallery 510 – Pam Marty
Decatur Public Library – Annette Russo
Wildflour Bakery & Café – Dan Modzelewski
Decatur Airport – Leta Burch
Central IL Title Company – Barbara Dove
Artist of the Month
Pam Marty
"Crystal, Flowers & Travels"
This show started when I set up fruit outside of my home and took photographs. I picked one that looked like a good composition. I got hooked on doing fruit for a while. Since the pandemic I've gone through old photographs of travels, too, and used those for subject matter: Hawaii, Colorado, Italy and Antigua. I loved doing those from photographs.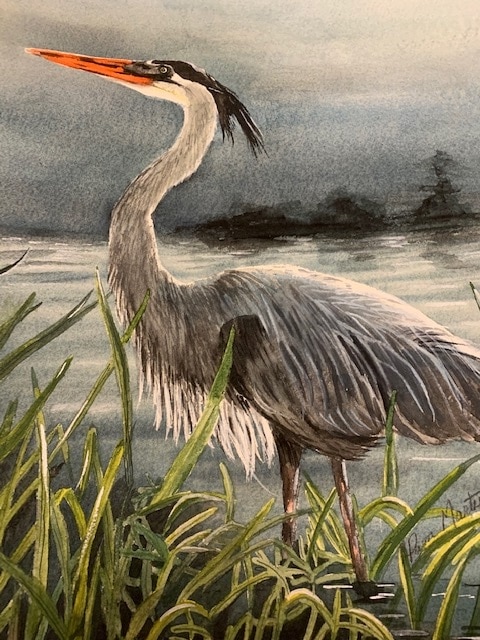 Student Artist of the Month
Heather Hughes
Heather Hughes attends Lutheran School Association and she is featured in March at Gallery 510 Art & Framing. Heather is a senior at LSA this year and is in the Art 4-Portfolio Class. Rachel Anderson, her art teacher, describes Heather as an amazing painter. Painting is her favorite type of art. She is also a member of student government as well as a member of the cheer team. In her spare time her favorite hobby is baking!
The Gallery Frame Shop
Do you know the basics?
Aside from expensive masterpieces or heirlooms, your art doesn't have to be framed in expensive frames.
Most of us collect wonderful artwork, prints or photographs. Frame without spending a fortune.
Frame thinking to the future. Use acid-free materials and a dust cover on the back.
Works on canvas can be treated differently. Oils and acrylics generally have a tougher surface so do not need glass or a mat. These paints are more colorfast than watercolor, inks or pencil.
Placement in the sun or shade. Brilliant colors fade in the sun and even UV protection often isn't enough if in direct sunlight. Watercolors and other works on paper are more delicate. Hang away from the sun.
Become a Member
Member artists pay dues annually and receive a solo show at Gallery 510, opportunities to exhibit at other venues about town that Gallery organizes, smaller commission paid on sales at the Gallery, discounts on purchases in the Gallery, discounts on framing supplies, fees waived for entering our shows, a voice at the Board of Directors meetings, and networking opportunities with the other artists. We also offer Emerging Artist and Student Artist Membership Levels.
Get Updates From Gallery 510