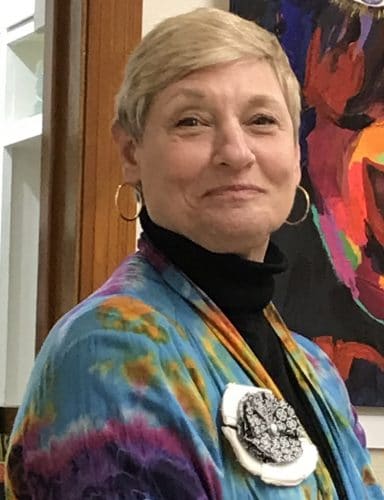 As a retired art teacher in the public school system, Carol does her art now for relaxation and the artist's innate need to create. Moving through themes of various sorts, she seems to come back to the landscape most often. Landscapes are mostly those of which she paints en plein air or from photographs taken in her travels.
As a member of the Painted Ladies- Women with a View, she has painted at the Grand Canyon, the Ozarks, in Europe, and around Central Illinois. On trips out of the U.S., she photographs and then paints from them, often in a series, to remember special locations in paint. With those photographs as a starting point, she then creates in her studio at Flourishes Gallery and Studios in Shelbyville, Illinois.
Two mediums of choice are oil and pastel. When using oil they are in the form of oil paint sticks or oil sticks. They come in a stick form like a large crayon. They can be blended on the canvas or layered by letting each color dry for a day before applying another. Carol does not use brushes, but uses only the paint sticks and her fingers. She uses both the oil sticks and pastels in the same way, sometimes blending, sometimes layering. Her style is Impressionistic, often with dots and dashes of color.
Color is that of personal preference. Carol uses more orange and peach rather than reds and purples. Blue is ever present, whether there to contrast the orange or to be a dominant hue. She has experimented with the application of color with dabs here and dabs there, unifying the composition through its repetition.